G503 TYRE (TIRE) PUMPS
---
- TYRE (TIRE) PUMPS -
More Photos will be added as time permits.
>An explanation to begin with.<
In the past, long dragged out discussions have been had on the Gee about the correct colour of the tyre pumps.
Let me say straight up, there were Grey, Gloss Green (similar to the First Aid kit colour) Olive Drab, and Black ones found. Below are predominately what's been found as original. along with Manufacturer and the Base Forged Numbers.
8P5000 Stock Number, as listed for Dodge, GPW, MB, GPA

Base Forged Part Number, Original Colour, Manufacturer, Tube Cap type.

305592 - QMC, Gloss/Semi-Gloss Grey (******), Cap - Knurled
305602 - ORD, Gloss Grey, (WALKER), Cap - knurled
305602 - ORD, Gloss Forrest Green ( WALKER), Cap - Knurled
305682 - ORD, Gloss Olive (WALKER), Cap - Knurled
NO Part Number - ORD, Olive DRAB, Cap - HEX
Always remember that Tyre pumps were not only issued to the MB and GPW jeeps, but a similar pump was also issued to the GPA, Dodge WC ¾ ton and the WC 1½ ton 6x6. not forgetting the Model 1937 cooking stove, or more properly called "Gasoline Field Range M-1937. SNL-85 Image below
You would think that the pumps issued are the same going on the numbers, but that's when things get tricky, as explained to me by Jim Gilmore.
The QMC or ORD part number may be the same but it does not mean the pumps were. QMC/ORD part numbers are for REPLACEMENT parts and not production items. That's what the MFG part numbers are for. Jim Gilmore
GPA Parts List TM 10-1264 October 1942
- Pump Tire.......Ford Part Number: GPW 17052
SNL G-503 JAN. 15, 1944
- Pump Tire with air chuck
....Official Stock Number: 8-P-5000
... Mfg.'s Number FM-GPW-17052 and WO-A 7511*** Note**
On SNL G-503 two different tire pumps are shown, one in grey.
...Official Stock Number for Dodges is :8-P-5000
Note*** Jan 17 1942 MB-QMC BOM Specifies A 6351. This was crossed out and A 7511 typed in.
Feb. 9 1942 MB-QMC and MB-BRT (British Contract Vehicles) Specifies A-6351, but "SPECIAL EQUIPMENT WHEN SPECIFIED BY CONTRACT ONLY"
May 1 1943 MB-QMC Supp RC 64720 A-6899 Tire Pump (As Purchased) USE A-7511-A for SERVICE

So what makes a correct Tyre Pump? Apart form the obvious of date issue QMC v ORD, basically it's the foot (size) to fit the bracket (if fitted) under the rear seat and the foot markings. It's easier for Ford fans, especially the early Fords, as the drawing shows the length to be 20 ¼ " with the handle fully in and the Base marked with QMC. and the pump fitted with a hose and nozzle.
From Jim Gilmore as reported on the G503 Tools Board by Luca Grossi and added to by Chuck Lutz...
Early GPW's had no tire pump (which does not say WHEN they DID get it added at the factory). He goes on to say as Luca has stated, that when they DID supply them at the factory, that they had the air gun and chain on them.

If you add the three items from Nabholtz and the one from Gilmore.....the first tire pump in a GPW would have been in March 1943. That would have been SIX MONTHS after the introduction of the ORD marked pumps, and therefore the LIKELIHOOD of them being anything but an ORD marked pump is nil.

Further, this would tend to support the idea that prior to Mar. '43, a GPW factory rear seat would NOT have a tire pump mounting bracket nor a tire pump.

Finally, if the QMC tire pumps are the ones found in GREY paint, and not the ORD marked ones, then a GPW that SHOULD have a factory tire pump would not have a grey one.

Motor pool restorations are another matter altogether of course! The addition of a pump, with or without the air gun and chain and the choice of paint is up to you.
Nabholtz says Sept '42 was the change from QMC to ORD. The addition of the air nozzle was Mar. '43.
The addition of the hole in the bracket under the rear seat for the nozzle is listed at Mar. '43.
These were not Factory fitted in most cases, there are exceptions. If you want to leave a found Grey one as Grey, or Gloss Green or for that matter O.D. do so. According to the MVPA Judging Standard as it's not a factory fitted item, it shouldn't matter and it should not be judged on a Factory Class restoration.
There were different screw caps fitted to the tube, some( the Hex Type) were painted, others (Knurled Type) were plated.
BRANDS FOUND TO DATE.
- WALKER - ORD and QMC - - DALTON FOUNDRIES- ORD and QMC - UNBRANDED-ORD
---
WALKERS have valve at 5 o' clock, be they ORD. or QMC
ORD DALTONS, both kinds, have the valve at 7 o'clock
UNBRANDED CIRCLE N : have valve at 1 o' clock, be they QMC or ORD.
---
- WALKER - US-ORD -
New Old Stock Gloss Green coloured Tyre Pump and a near new Grey one
- WALKER - US-QMC-
---
- DALTON FOUNDRIES - ORD -
- DALTON FOUNDRIES - QMC -
---
- UNBRANDED - CIRCLE N - US-ORD
Below are photos of an ORD pump supplied by Chuck Lutz. Note several things, the top "nut" and the hose exits from a bulge on the ORD marked side, also the underside is unmarked with the exception of the letter.
Luca's Photos
---
PETERS & RUSSELL - OPEN FOOT PLATE TYPE -
More information on this type is required.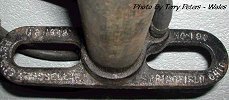 ---
- DALTON FOUNDRIES OPEN FOOT TYPE -
Dated 1943

---
- PETERS & RUSSELL Inc. OPEN FOOT TYPE -
Dated 1942
---