Al Brass' Motor Pool Class MB 290463 "Marilyn"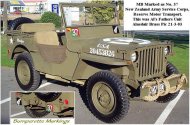 Completed with New Zealand Markings 21 March 2003
Inside View, LOF Glass Stenciled, MB Engine Bay
Complete with Stars & Hood Number 20453826
If you look hard at the Inside View, right side w/shield pane, you can make out the stencil for the LOF glass ( Middle Pic). These were sandblasted by Al similar to the way I did my Ford Glass. The way of doing this is written up here. The DXF file for this stencil is available by asking through the JeepDraw Request Form, as it's not listed on the JeepDraw Drawing List.
Having been sent many original windshield stencils, there are variations of this stencil showing dates. I also have those available as well.
Prior to final application of Stars and Hood Numbers. Speedo from Frank Berg and correct AutoLite Gauges
Before Aug 2002
Front floor, Rear inside tub, Left side, Engine bay( not too bad for starters)
Restoration Begins
Rear Seat, Fabricated Battery Tray
Panel Repairs Right Front Floor, Rear Panel repairs, Left side,
Right Side, Toolbox Area repairs
Grill & Rear Seat with Tyre Pump Fitted
Tub base repaired, Finished frame
Engine Colours
Torque Spring Left front frame
Al out with "Marilyn" taking in the New Zealand scenery.