G503 TYRE (TIRE) CHAINS
---
So far, we have identified for Ford GPW's:
WEED.......American Chain & Cable Co. from York, PA
INCO....International Chain & MFG. Co from York, PA
WESCO....Western Chain Co. from Chicago, IL
---
Information pertains in Willys MB's ONLY. Chains were supplied by :

Columbus-McKinnon Mfg Co.
Western Chain Products Company
Hodell Chain Co
Nixdorff-Krein Mfg Co
American Chain & Cable Co
and as of 1/1/44 also
Pyrene Manufacturing Co
Unidentified are the chains used by USMC and The Australian Army and also found in quantity in Europe.
Cross chain specs

Wire Diameter =.281
No of Links =9
Inside Length with hooks = 12.55
Number per chain 9
Hook wire size=.250

Side Chain Specs

Inside length including end hook 68.1
Dia wire = .234
Number of links = 38
Approx weight per pair = 23 pounds

Type "TS" Sin.Pneumatic Truck Chains
Must conform to QMC #ES-422G and TAC - ES-NO. 775 of latest issue type Unless otherwise specified chains & attachements shall conform to the requirements of the chain institute, Inc. for "TS" type chains

Chains to be furnished in a suitable cloth bag or Bags properly marked, of not lighter than 8 oz. Osnaburg material(100% Cotton), shall be furnished in accordance with U.S. ARMY spec #6-280A

Note: to be packed in accordance with Ordnance Spec P.S. #502

This data applies to tire chains shipped from the Willys Factory with MB Jeeps. I am not implying the data can be applied to GPW, or motor pool supplies. Willys Motors
---
Ford Tyre Chains
Date Jan. 31, '45 from the Dallas plant to Dearborn.

Tire Chains

On Aug. 19, '43 Dallas started using the light weight tire chains and used them continuously till Nov. 9, '44 at which time Dallas started using heavy type tire chains. From Nov. 9, '44 through Jan. 31, '45 Dallas has received both light and heavy type tire chains and have passed the same through the Dallas production line as they were received.
Tom Wolboldt from the Ford Archives
---
- WEED -

Several different type ends were produced by Weed during the war years.
Below are several which are correct. Some had eight and others had nine cross links.

These photos should give you an idea on what to look for when searching for the correct chains.
Purely for interests sake.
Chains are becoming harder to find, several people have or are currently manufacturing their own.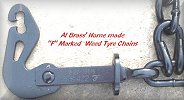 Al Brass in New Zealand made one end to complete his set of four, a photo of his construction is below the first set of WEED brand chains. Paul FitzGerald also made his which are shown on his JeepDraw Page

I like to start with the "typical" WEED 6.00-16EH ES 422 – a heavy style Chain. This type of chain the first one from Al Brass – exist with the markings WEED 6.00-16EH E.S.422 - has the Patent No. 2.153.002 and 2.153.002

I have found about 50 % of them with the "F" mark - see pictures, . this type of weed chain has 37 normal links on each side - diameter 7.2 mm, length 59.5 mm and wide 26.6 mm

has 9 cross pieces made up of 8 twist links and 2 special end links.

On each side link is a cross piece attached in this condition the chain is some side links are to long – when the chain should fit – some seem to be cut off – so the the chain will fit the tire – so on the last 3 – 5 links a cross links have gone missing – so the chain have 8 cross piece

that's my thoughts of the 9 / 8 cross pieces - I have tried this chain on a original 6.00-16 Good Year Tire …with 8 cross links – they fit …..

in the sticky there is one picture – with a WEED stamped special end link - (picture from Diedier Blandin) - I am near sure – this is a chain – I have sold some years ago to French Guy ……..

this was the only chain / special end links I have ever seen with the WEED marking...Wolfgang Prenninger

There were several styles of ends, the type shown in the TM's are usually what's called the basic hook type. More than one type has been found "F" script stamped. The number of cross links also varies, usually 8 or 9, 90 degree twisted links. Not all chains show cross link to side link joiners are "WEED" marked.

For the purposes of Discussion of Time Lines Weed Chains

- TYPE ONE - TYPE TWO - TYPE THREE - TYPE FOUR -

1) 1) Type I = the "S" hook is attached to the side chain with a long chain shaped link and held with a ring.

2) Type II = the "S" hook has a "U" shaped attachment to the side chain

3) Type III = the "new" style hook is attached with "U shaped attachment to the side chain

4) Type IV = a completely new design of the clasp

WEED Chains to Avoid

Below are Civilian WEED Brand Tyre Chains, you will notice, when compared to the above Military chains they are far lighter in construction, the clasps are considerably thinner.
---
- INCO -
Displaying a similar style to the TM images and that of Weed.
INCO light style
38 side links, 9 cross pieces made up with 9 twist links and 2 special end links with Hooks ( like light WEED)
Diameter side link 6mm, 54.5 mm long and 21.6 mm wide. Middle photo may have been used for the Cross Country Modification Kit (T-1 Compressor fitted jeep)
---
- WESCO -
---
- UNKNOWN BRAND -
There's a possibility these are Nixdorf-Krein Mfg. Co. Chains (See MB Chain Info Above)
Photographed on Australian Army jeeps in New Guinea and U.S.M.C. jeeps on Iwo Jima
Have been found in Europe in quantity, the observation there is, 50% of the chains found have been this style. Sometimes referred to as the "S" end link type.
Initially, I was suspicious of this type of chain until I was going through the Data Base on the Australian War Memorial site http://www.awm.gov.au/database/collection.asp
In there I found Australian jeeps using them in New Guinea. then Mark Tombleson sent me a few photos of MZ (U.S.M.C. Radio) jeeps used in the Pacific Islands which had the same type. Photos below.
NOS Chains in this style have been found in Austria with Olive Drab hooks and the remainder of the chain coated in "TOLUENE" (Austrian STEINKOHLE - TEERÖL) also know as "Coal Oil"
38 side links, 9 cross pieces, 9 twist links and 2 special end links
Side links – diameter 5.85 mm some also 6 mm, 56.5 mm long and 22 mm wide
Extra photos and any information on the above Unknown chains are always welcome
---
- THE HODELL CHAIN CO. -Cleveland, Ohio, U.S.A
Found in Austria marked 6.00-16 TS and 6.00-16 ES . The ES chain measures slightly more (Heavy)
The light style shown in the pictures has 38 side links, 9 cross pieces made up of 9 twist links and 2 special end links – like the "S-Hook" Chain above (please look at this special end link) – some other type Chains – Branded "3M" has another type of special end links
Side links - 6 mm diameter, 56.7 mm long and 22 mm wide
Extra photos coming soon on the "Heavy" type
---
- NOS BOXED CHAINS -
---