---
LOCATION on JEEPS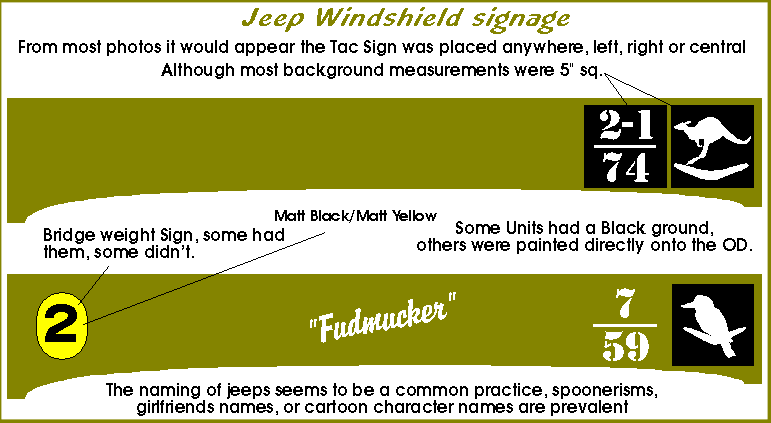 Other Locations - Under Construction
---
Acknowledgements
My appreciation to Ray Kennedy, Tasmania for assisting me in this endeavour, for without him I would still be floundering.
"Formation Badges of World War 2 - Britain, Commonwealth & Empire" By Howard Cole.
Australian Army Standing Orders
Original Art - As per. Ordnance Directorate, H.Q., A.I.F. (ME) Dated 18 Jan 42, (*) denotes the original source from which the Army derived the images.
Rising Sun, (From the Australian Army Badge*), Swan ( From the Coat of arms of Western Australia*) Sgt.G Ackroyd, A.A.O.C.( Australian Army Ordnance Corp) H.Q., A.I.F.(ME)
Dingo( From a Photograph*) - M.H..& I. Sec.,H.Q., A.I.F. (ME)
Kookaburra (From a Photograph*) - Lt.Col.G.H.Moran, A.A.O.C. & Mr. Harvey
Kangaroo ( From 1939 Australian Penny*) - Draftsmen at A.H.Q. Melbourne, Australia.
Emu ( Australian Coat of Arms*) - Mechanization Directorate
Platypus (From 1937 9d. Stamp*) - Sgt. Stockfield, Map Issuer, H.Q., 1 Aust. Corps (G Branch)
Other Images were already in use prior to the issue of this Ordnance Directorate.
---