- OPEN END WRENCHES -
---
Below is the Ford Blueprints of what was required with respect to Open End Wrenches.
Click to Enlarge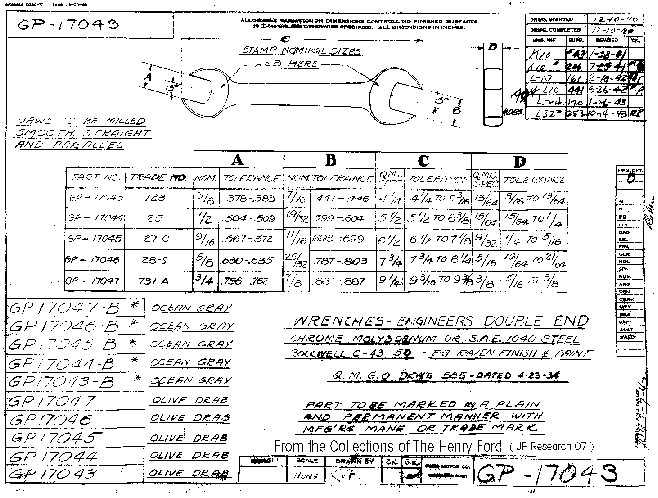 ---
Notice in the Top List Scan the wrench listed as a 28D and not the usual 28-S. here's a VLCHEK 28D for those interested.
- FAIRMOUNT -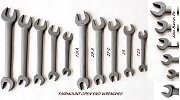 PEAR HEAD FAIRMOUNT -

To the right are the FAIRMOUNT brand of wrenches as shown in the Parts List Wrenches supplied By John and Prem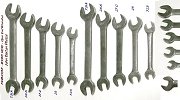 John Barton Photos
- ROUND HEAD FAIRMOUNT -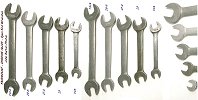 - CHROME ALLOY FAIRMOUNT -
- BARCALO-BUFFALO -
- WILLIAMS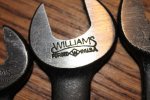 Correct WILLIAMS Set Markings

Around 1924 Williams updated its wrench face markings to the style shown above The Williams name is underlined by a scroll from the terminal "S", and the text "Forged in U.S.A." appears below, with the W-Diamond logo in the center. The 1924 date is based on the trademark registration for the Williams name with the scroll underline, which lists 1924 as the first use date.
Several alternate forms of this style were used for smaller tools with insufficient space for the full "Forged in U.S.A." text. These alternates (in order of decreasing size) used the text "Made in U.S.A.", then "Made U.S.A.", and finally just "U.S.A." for the smallest tools. Examples of these markings can be found at various places in this article. (Alloy Artifacts)



WILLIAMS

By 1947 Williams had updated its wrench face markings to the simpler style shown above. The Williams name remained underlined by a scroll, but the text below was simply "U.S.A." without the W-Diamond logo..
This style of marking was generally used on wrench faces from about 1947 until around 1955, after which the adoption of the ribbed wrench style forced the markings to move to the shank. This marking was also used on tools without a well-defined "face", being placed on the shank or some other part of a tool. We'll refer to this as the "Williams U.S.A." marking in the text. (Alloy Artifacts)
- B H M MASTER QUALITY - DUROCHROME -
---
1 - Index SNL List of Tools - FORD & WILLYS - ALEMITE & LINCOLN GREASE GUNS -
2 - SCREW JACK - BRISTOL WRENCH -
3 - OIL CANS 1 PINT - HAMMER - Ball Peen - 16oz -
4 - WRENCH, SOCKET, HUB NUT - PULLER - WHEEL -
5 - WRENCH - Adj. 8" Crescent - DRAIN PLUG WRENCH -
6 - 11 inch ADJUSTABLE WRENCH -
7 -BRAKE BLEEDER WENCHES -SCREWDRIVERS - TIRE PRESSURE GAUGE -
8 - PLIERS 6" COMBINATION WIRE CUTTING -
9 - WRENCH, WHEEL - WRENCH - SPARK PLUG -
10 - OPEN END WRENCHES
Home
g503.com