- WRENCH, WHEEL -
Often referred to as the Lug Nut Wrench, several manufacturers have been observed, below are the usual types found.
Lug nut wrench: please note that the 41-W- ****- also came with 55 rather than 25 suffix, and are just as correct.
FORD - WILLYS - MOSSBERG - REPLACEMENT W*

- FORD - MOSSBERG -
GEDORE - NATIONAL REPLACEMENT BRANDS - NORWAY
It would appear that when supplies were not available, national manufacturers manufactured what was necessary. Other than that I know nothing about them.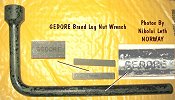 ---
- WRENCH - SPARK PLUG -

FORD MARKED - WILLYS MARKED
- MOSSBERG -
They came with three different suffixes after a same part number 41-W-3335: they are 30, 40, 50
---
1 - Index SNL List of Tools - FORD & WILLYS - ALEMITE & LINCOLN GREASE GUNS -
2 - SCREW JACK - BRISTOL WRENCH -
3 - OIL CANS 1 PINT - HAMMER - Ball Peen - 16oz -
4 - WRENCH, SOCKET, HUB NUT - PULLER - WHEEL -
5 - WRENCH - Adj. 8" Crescent - DRAIN PLUG WRENCH -
6 - 11 inch ADJUSTABLE WRENCH -
7 -BRAKE BLEEDER WENCHES -SCREWDRIVERS - TIRE PRESSURE GAUGE -
8 - PLIERS 6" COMBINATION WIRE CUTTING -
9 - WRENCH, WHEEL - WRENCH - SPARK PLUG -
10 - OPEN END WRENCHES