OIL CANS 1/2 pint (Various)
Page 213 Vehicular Spare Parts, SNL G-503, January 15, 1944, 13--153O OILER, S., straight spout, spring bottom (capacity 1/2 Pint)
Page 30, TM9-803 OILER, straight spout, 1/2 pt 13-O-1530
TM10-475, Page 89, 13-O-1530, OILER, steel, straight spout, spring bottom, capacity 1/2 pt

Brands found which comply are GEM, EAGLE and NOERA

Below is a Ford packed GEM Oil Can thanks to Frank Berg
Oil cans have been found as OD(Olive Drab) and Plain Unpainted
Eagle Oil Can are being reproduced, while quite good, it's handy to know there are some differences that may help you determine if what you're buying is an Original or a Reproduction.
This is a photo of an INCORRECT EAGLE OIL CAN

MARKINGS - Note:- Stamped, NOT Embossed

Please note!.... Eagle Oil Cans have been found, Ford packed, unpainted (ie: Not OD) but lacquered in clear.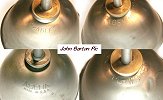 The requirement of the SNL G 503 is that the capacity is 1 pint, this gives the base size at 4in or 100mm
---
HAMMER - Ball Peen - 16oz
HANDLES - DIMENSIONS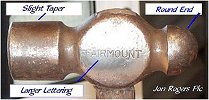 The head to the left is not correct as it is actually larger than the 16oz. specified in the List. Purchased way back on the assumption it was correct as no weight was listed, a case of live and learn. Differences pointed out so you don't make the same mistake.
- WILLIAMS -
- VLCHEK - HELLER - BONNEY -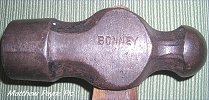 - BILLINGS - BILLINGS & SPENCER - COLLINS -
---
1 - Index SNL List of Tools - FORD & WILLYS - ALEMITE & LINCOLN GREASE GUNS -
2 - SCREW JACK - BRISTOL WRENCH -
3 - OIL CANS 1 PINT - HAMMER - Ball Peen - 16oz -
4 - WRENCH, SOCKET, HUB NUT - PULLER - WHEEL -
5 - WRENCH - Adj. 8" Crescent - DRAIN PLUG WRENCH -
6 - 11 inch ADJUSTABLE WRENCH -
7 -BRAKE BLEEDER WENCHES -SCREWDRIVERS - TIRE PRESSURE GAUGE -
8 - PLIERS 6" COMBINATION WIRE CUTTING -
9 - WRENCH, WHEEL - WRENCH - SPARK PLUG -
10 - OPEN END WRENCHES