BRAKE BLEEDER WRENCHES

SIZE COMPARISONS BETWEEN MANUFACTURERS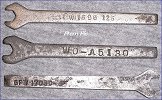 - FORD -
- WILLYS -

-REPLACEMENT W Marked -

---
SCREWDRIVERS - 6" BLADE

Government Blueprint - IRWIN & Others.
The drawing was completed on 1/29/41.
The optional sources note was added to the drawing 1/14/42 stating that The Tobrin Tool Co and the Irwin Auger Bit co. were sources.
This note was updated again on 5/19/42 to Add the Furney-Shirwin Co.(Federal) and the Fairmount Tool & Forging Co.

The Gov't #stamp note was added 1/10/50
This note read GOV. Stock#41-S-1076 and was to be "Stamped or Otherwise Permanently and legibly marked.
The finish parkerized note was added 8/4/50

The Screwdriver Blueprint lists the following as being correct for MB's and GPW's
- IRWIN - FEDERAL - TOBRIN -
---
- TIRE PRESSURE GAUGE -

Not listed in the GPW '42 Tools list. See first scan TOOLS.

To the left are two styles of gauges as seen in two SNL pics..
Brands are Schrader, Syracuse, and Druge..
all should have Property of....US ORDNANCE or USQMC stamped into the body of the gauge.
I believe I have the commonly accepted gauges that were supplied with the jeep. There are variations. The two SNL layout photos feature two different gauges. "Willys" has a ring, "Ford" has no ring.
SNL also has GAGE or GAUGE?- on same page!
I'm looking if anyone has variations from these below?

By the numbers above:-
1- No brand, has US PROPERTY QMC around bottom edge above knurling. Note hex collar instead of round, as on all others

2-SCHRADER has US PROPERTY QMC under brand
SCHRADER
REG. U.S. PAT. OFF.
SERVICE TIRE GAUGE
Manufactured by
A. Schrader's Son
A Division of Scovill Man Co
Brooklyn NY USA
two lines of patent numbers
US PROPERTY Q.M.C.
Another variation is:-
SCHRADER

REG. U.S. PAT. OFF.

MANUFACTURED BY

A.SCHRADERíS SON

DIVISION OF SCOVILLE MANUFACTURING CO. INC.

BROOKLYN N.Y. U.S.A.

(two rows of patent numbers, five total)

U.S. PROPERTY
ORDNANCE DEPT.

3- DRUGE
DRUGE BROS MFG CO
OAKLAND, CALIF
US PROPERTY ORDNANCE DEPT

4-SCHRADER
same as no 2 except no SERVICE TIRE GAUGE
and ORDNANCE DEPT instead of QMC
same patent numbers

5- SYRACUSE
SYRACUSE GAUGE MFG. CORP
SYRACUSE N.Y. U.S.A.
US PROPERTY ORDNANCE DEPT

6-SCHRADER
another SCHRADER, same markings as no 4
but has different throat/collar where body attaches to
small tube?
US PROPERTY ORDNANCE DEPT

Close up of brands and two property markings

If you have another style would you let me know that I may update my guide. There are many gauges without the property designation-
I am only looking for QMC or ORDNANCE marked ones.. Thanks, John Barton
---
1 - Index SNL List of Tools - FORD & WILLYS - ALEMITE & LINCOLN GREASE GUNS -
2 - SCREW JACK - BRISTOL WRENCH -
3 - OIL CANS 1 PINT - HAMMER - Ball Peen - 16oz -
4 - WRENCH, SOCKET, HUB NUT - PULLER - WHEEL -
5 - WRENCH - Adj. 8" Crescent - DRAIN PLUG WRENCH -
6 - 11 inch ADJUSTABLE WRENCH -
7 -BRAKE BLEEDER WENCHES -SCREWDRIVERS - TIRE PRESSURE GAUGE -
8 - PLIERS 6" COMBINATION WIRE CUTTING -
9 - WRENCH, WHEEL - WRENCH - SPARK PLUG -
10 - OPEN END WRENCHES