PLIERS - 6" - COMBINATION WIRE CUTTING

Several brands are acceptable, Script Ford Marked are not for GPW's, however, "F" marked with the MH Logo may be acceptable as they conform to the requirements of the TM, SNL description. MH stampings have also been found on original Ford marked Lug Nut Wrenches.
Pliers with Screwdriver type handle are also not acceptable.

- J.P.DANIELSON -

MH (McKAIG - HATCH) Brand - F Marked
- FAIRMOUNT -
The four pliers pictured above right are more for interests sake, the top two don't appear to be correct due either the length and grip shape. Thanks to Jeff for the photos.
- UTICA -
Here is a good website on Utica pliers:
http://home.comcast.net/~alloy-artifacts/utica-tool.html

- CEE TEE -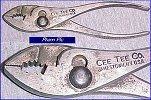 - BARCALO-BUFFALO - SAMSON - WILLIAMS - PESCO
- INDESTRO - LAKESIDE - DROP FORGED - VLCHEK -

---
1 - Index SNL List of Tools - FORD & WILLYS - ALEMITE & LINCOLN GREASE GUNS -
2 - SCREW JACK - BRISTOL WRENCH -
3 - OIL CANS 1 PINT - HAMMER - Ball Peen - 16oz -
4 - WRENCH, SOCKET, HUB NUT - PULLER - WHEEL -
5 - WRENCH - Adj. 8" Crescent - DRAIN PLUG WRENCH -
6 - 11 inch ADJUSTABLE WRENCH -
7 -BRAKE BLEEDER WENCHES -SCREWDRIVERS - TIRE PRESSURE GAUGE -
8 - PLIERS 6" COMBINATION WIRE CUTTING -
9 - WRENCH, WHEEL - WRENCH - SPARK PLUG -
10 - OPEN END WRENCHES