THE g503.com TOOL SECTION
This is to supplement the Tools Section of G503.com
Go to :- http://www.g503.com/tools/
Original WILLYS TOOL KIT http://www.g503.com/tools/tools_sec4.htm

For Axes and Shovels, John Barton's articles can be found at
http://jeepdraw.com/John_Barton1_Shovels.html
http://jeepdraw.com/John_Barton2-AXES.html
To purchase John Barton's "Fleamarket Guide to MB & GPW Tools & Accessories" Click Here.

Thanks to Prem and John Barton for furnishing this list and Luca for the suggestion.

This list includes some items which were later dropped and some items were added.
For instance the adjustable wrench (Crescent) was dropped, and the Grease Gun was changed to a lever type..
Wrench 28D was changed to a 28S

So please note this is a FEBRUARY 1942 List
---

To the left is a scan from an SNL showing first of two tool photo layouts-
this became known as "FORD" set because of GPW on chain bags.
There is nothing in descriptions to distinguish between GPW or MB.
---
This is the other tool layout photo from an SNL G-503- "Willys"- again, there is nothing in the text or descriptions to distinguish between a Ford or Willys. Simply for convenience when discussing photos
Note some differences-


different grease gun adaptor
different tire gauge
different top to tire pump
painted in spark plug wrench
different drain plug wrench
different clasps on chains
different style of wrenches
---
WILLYS LIST OF SPARE PARTS 1941
---
Photos of each Tool and/or Links to each as time progresses.

ALEMITE LEVER GREASE GUN MANUAL
Filling, Using and Repair (includes Parts List) of the Alemite Lever Grease Gun Requires Adobe Acrobat 2.38MB

- ALEMITE -
The Alemite Lever Grease Gun Model 6593 had a plated tube, and nozzle. The lever arm is Painted Olive Drab, as is the Lincoln Lever Grease Gun Model
The Tube is stamped with the following:-






- LINCOLN -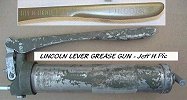 - GREASE GUN ADAPTORS -

If someone can let me know what each is I'll add it here. A/B/C etc.






- ALEMITE 5585 BAKELITE HANDLE -





- UNDER HOOD LEVER GREASE GUN BRACKET -
Both Lincoln and Alemite Lever Grease Guns fit this bracket.
Used from approximately Late 1943 on Willys Early 1944 on Ford GPW's until the end of production. Not shown are the hood reinforcing plates spot welded to the hood side where the bracket is mounted.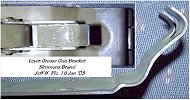 ---
1 - Index SNL List of Tools - FORD & WILLYS - ALEMITE & LINCOLN GREASE GUNS -
2 - SCREW JACK - BRISTOL WRENCH -
3 - OIL CANS 1 PINT - HAMMER - Ball Peen - 16oz -
4 - WRENCH, SOCKET, HUB NUT - PULLER - WHEEL -
5 - WRENCH - Adj. 8" Crescent - DRAIN PLUG WRENCH -
6 - 11 inch ADJUSTABLE WRENCH -
7 -BRAKE BLEEDER WENCHES -SCREWDRIVERS - TIRE PRESSURE GAUGE -
8 - PLIERS 6" COMBINATION WIRE CUTTING -
9 - WRENCH, WHEEL - WRENCH - SPARK PLUG -
10 - OPEN END WRENCHES