- WRENCH, SOCKET, HUB NUT -

- WILLYS -

- FORD -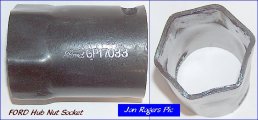 Ford records show the GPW-17090 Wheel hub puller was deleted from the GPW tool kit sometime after 25th April 1945. The actual date is unknown at this time but stock in transit and on hand were to be used up first so I would put a date of about June 1, '45 as the date of the deletion. Contributed by TomWolboldt.
- ALL MANUFACTURERS -

---
PULLER WHEEL (See G in Scan)
Willys A-1339 wheel hub puller. It appears in type on a MB tool kit page [B/M 117] dated and typed on 2-3-45 but is crossed out with typed dashes, indicating it was later deleted from the MB tool kit. I don't know the effective date of deletion and nothing on the page indicates that date. But it happened sometime during 1945, probably near the same time the wheel hub puller was deleted from the Ford tool kit. Contributed by Fred Coldwell

The wheel puller can be found readily as a reproduction, reproductions are almost always in cast bronze.

For Ford fans, the puller was "F" Marked, Thanks to Prem for the photos.
My F Stamped Hub Puller, like Prem's above there is no casting part numbers, just the light F stamp on the machined surface. The Hub Puller is cast steel (see threaded area). More information on this type would be appreciated.
- WILLYS - But F marked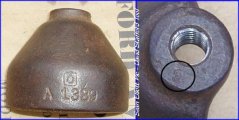 REPLACEMENT PULLER 41-P-2962-700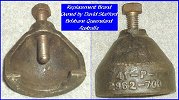 ---
1 - Index SNL List of Tools - FORD & WILLYS - ALEMITE & LINCOLN GREASE GUNS -
2 - SCREW JACK - BRISTOL WRENCH -
3 - OIL CANS 1 PINT - HAMMER - Ball Peen - 16oz -
4 - WRENCH, SOCKET, HUB NUT - PULLER - WHEEL -
5 - WRENCH - Adj. 8" Crescent - DRAIN PLUG WRENCH -
6 - 11 inch ADJUSTABLE WRENCH -
7 -BRAKE BLEEDER WENCHES -SCREWDRIVERS - TIRE PRESSURE GAUGE -
8 - PLIERS 6" COMBINATION WIRE CUTTING -
9 - WRENCH, WHEEL - WRENCH - SPARK PLUG -
10 - OPEN END WRENCHES